How to choose the right Touch Screen for your computer monitor

How do you measure a Touch Screen?
Here is how to buy the right size touchscreen for your LCD, Laptop or Notebook display monitor.
Important

: Measure your monitor screen diagonally to correctly ensure proper fit of your touchscreen.
Choose from the

WideScreen

or

Standard

size to get the best fit for your notebook or LCD touch screen.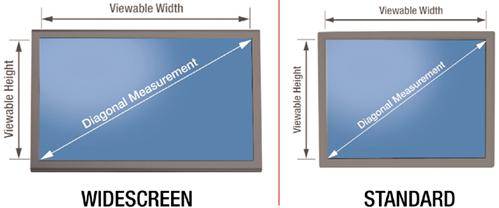 Note: Be sure to measure only the viewable screen area.
The FRAME is NOT measured for Viewable Area.
Only the picture area is used to caculate the proper touch screen size.

CRT

(Cathode Ray Tube) monitors are measured differently. Some of the tube is behind the bezel so add approximately

1 inch

to the diagonal measurement to get the correct sized touch screen.

1 Inch = 25.4 mm
The touch screen's active area can be larger, but not smaller, than the display's view area.
* For Add-On external touch screen kits click on this quick link web page.